Build a repurposing and distribution engine in Less Than 60 Minutes
Develop Your System • Maximize Your Budget • Grow Your Business
Content Repurposing Roadmap is a totally new way to build and grow a content marketing engine
What's in Content Repurposing Roadmap?
Systems and frameworks: Audit your existing content to discover what's worth repurposing (with step-by-step instructions). Learn the three types of content you need (with real-life examples). Build a distribution doc library (with the exact template and framework I use every single week).

Instant results: Stop staring at a blank screen. Go from having no plan to a full distribution calendar in less than 7 days.

Everything to start: Full video lessons, detailed examples, and fill-in-the-blank templates.
01
You're a marketer who's tired of creating content only to have it sit in an archive and make zero impact.
02
You have a ton of existing content, but you have no clue how to distribute it to your audience.
03
You want to get off of the content creation treadmill and have more time for strategy and creativity.
"Your framework has transformed our process."
Work smarter. Not harder.
1. Get access
Buy the course and learn to create, distribute, and repurpose your content in less than an hour.
2. Learn the skills
Discover how to create a content plan for every day, week, and month.
3. Transform your process
Eliminate the confusion and get a defined distribution process for all of your content.
Are you creating too much content with no plan to get it in front of people?
Your content isn't king if no one sees it.Most companies have invested in creating great content but don't know when or where to share it.Distribution is the most overlooked, yet fundamental strategy to effective content marketing.You want to take your content strategy to the next level and are looking for a proven system to get this job done.I've created a step-by-step framework that takes out all the guesswork. So you can work smarter, not harder.You've mastered content creation.It's time to focus on distribution.Over time we build enormous content libraries.But most of the content is collecting dust.We don't need to hit a production quota.We need a strategy that gets eyeballs on our content and drives revenue for the business.That's exactly why I created Content Repurposing Roadmap.This course gives you a framework to distribute all of your content so it will stop collecting dust and start getting attention.
---
Lesson 1 & 2
Mindset shift 🤯
Understand the 4 myths that are holding your strategy back

Solve the number one problem that keeps you running behind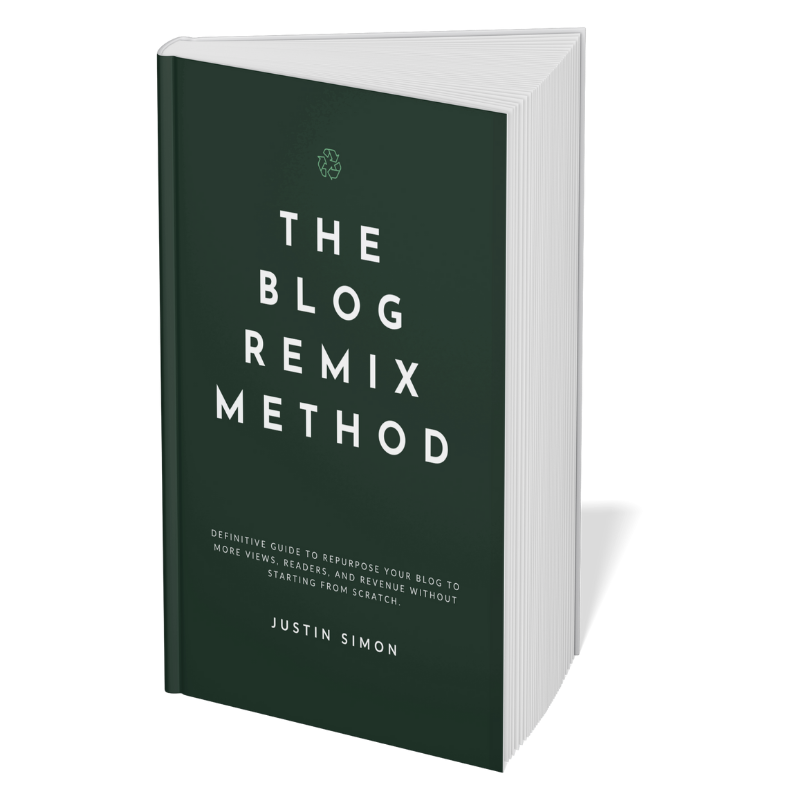 Lesson 3 & 4
Content audit ✅
Get 3 types of content you need to build an engine

See real-life examples

Know how to audit and plan your content for success every quarter, month, and week.
Lesson 5 & 6
Content engine ♻️
Get a step-by-step tutorial on how to repurpose a blog (+FREE template)

Turn social media posts into a blog

Bake content distribution into your content creation process
Book
How To Repurpose Blog Content
Create a distribution document for any blog post

Step-by-step instructions

Write social content that's as easy as copy and paste
Content Repurposing Roadmap
Get a step-by-step plan to create, repurpose, and distribute your content.
Book
$39
How to Repurpose Blog Content will teach you how to quickly repurpose and distribute any blog post. And make it as easy as copy and paste.
Blog Repurposing

ebook

Distribution Doc

template

Distribution Doc

example
Distribution Toolkit
$79
Get the entire lesson on distribution. Create an action plan to share your posts so that they get the most amount of attention and stop collecting dust.
Blog Repurposing

ebook

Distribution Doc

template

Distribution Doc

example

Repurposing a Blog Post

video

Social Content into a Blog

video

Distribution Doc Walkthrough

video
Full Video Course
$199
MOST POPULAR: Buy the full course and I'll include the book and all the resources for free.
12

video lessons

1.5 hour

duration

Blog Repurposing

ebook

Distribution Niche

guide

Social Media

schedule

Distribution Doc

template

Distribution Doc

example

3C Content Method

audit

Content Tier Matrix

audit